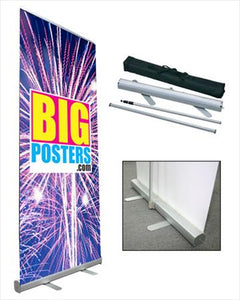 Retractable Banner Stand are light weight, convenient, and perfect for showing off your message!
Constructed from aluminum, very easy to operate. Just pull the graphic out of the base (like an upside down window shade), attached aluminum pole (provided), into base of the stand and top of the banner. Instant display! This product comes with a full color graphic installed. 
Our retractable stands and graphics are for indoor use only. They should not be used for outdoor use. Harsh outdoor weather conditions can damage stand and graphic. 
Our standard-duty graphics are produce don polypropylene film. It is not water proof, but it does have a less chance of curling on the sides. 
Our heavy duty graphics, are on vinyl banner and is water proof, but has a tendency to curl a bit on the sides 
If you need proofing on your job, you must select a PROOFING product from the categories on the left